Microsoft
Microsoft Alliance Solutions
Microsoft Alliance Solutions are focused on helping organizations achieve high performance by effectively leveraging Microsoft technologies. RH's long-standing alliance with Microsoft enables us to deliver better overall business value for our clients: more effective and efficient technology that is delivered at a lower cost.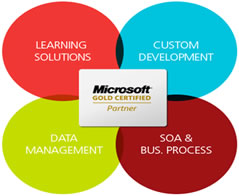 How RH can help you
RH, along with the excellent competencies in Microsoft solutions and operations framework, has the range and depth of skills to:
Develop and implement solutions, locally or globally, to improve efficiency and increase collaboration
Use our unparalleled skills as a leading integrator to merge Microsoft-based solutions into your existing infrastructure
Provide tailored solutions for a wide range of sectors including telecoms, manufacturing, public sector, oil and gas, utilities and financial services, which draw on our vertical industry knowledge
Deliver innovative, rapid solutions with a familiar look and feel that can reduce costs and help you remain competitive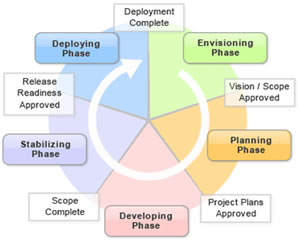 RH Specializations across Microsoft Solutions
RH's services and solutions span across Microsoft's product line to deliver improvements in both the infrastructure and applications.
Infrastructure Solutions: RH's end-to-end offerings reduce costs, accelerate time-to-market, simplify management, expand resources, enhance efficiency and help refocus resources onto highest value opportunities. We provide the right mix of outsourced, managed and IT project services to deliver the greatest business value.
Custom Solutions: RH uses Microsoft .NET for software development and web solutions. We use the .NET platform to help companies cost-effectively architect, develop, and migrate applications. RH's .NET solutions focus on utilizing Microsoft's programming technologies and the .NET framework to create SOA-based solutions, customer enterprise applications, mobile solutions and enterprise integration systems.
Collaborative Solutions: RH's Collaborative Solutions empower businesses to use tools like SharePoint and Office System as an integration and delivery mechanism for content, business process support, services and products. RH can help you quickly and effectively integrate this powerful technology into your business enabling easy, personalized access to a web-enabled, single source of enterprise information for better, faster decisions and improved business performance.
RH's strategy focuses on three specific areas as the core of our solutions: content integration, web application integration and customer interaction.
Data Management and Integration Solutions: RH integrates data and applications for companies and organizations to deliver fully functional business solutions. We blend best-of-breed tools including SQL Server, SQL Server Reporting Services, and SQL Server Analysis Services with standardized processes and skilled resources to achieve enterprise architecture, enterprise application integration, business intelligence/data warehousing, business continuity/disaster recovery and network security helping our clients to leverage information for optimal business value.
SAAS Solutions: With SaaS oriented solutions we enable our client to sell Value and not just cost. RH helps you develop the required application for use as a "service on demand", either through a time subscription or a "pay-as-you-go" model. Also known as "software on demand," the SaaS model allows vendors to develop, host and operate software for customer use. Rather than purchase the hardware and software to run an application, customers need only a computer or a server to download the application and internet access to run the software. The software can be licensed for a single user or for a group of users.